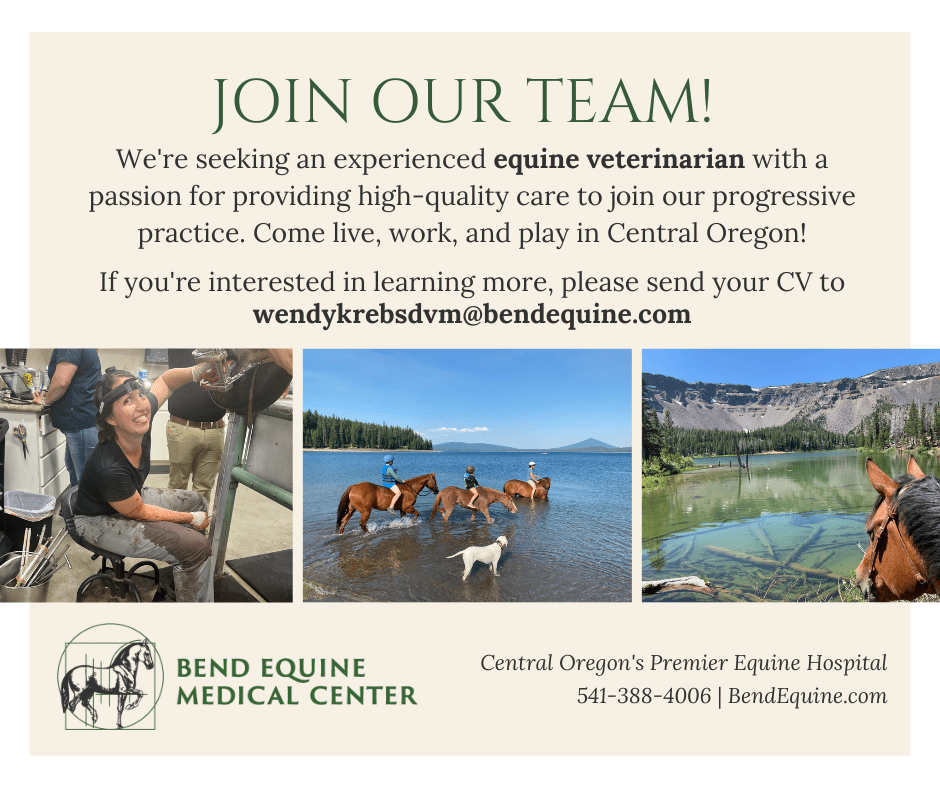 Are you an experienced and passionate equine practitioner who is ready for a change of pace and a reset?
• Break the equine practitioner paradigm of a six-day work week and burning the candle at both ends?
• Live and practice in the high desert, mountain town of Bend, Oregon, one of the most beautiful parts of the country?
• Enjoy time outside of work with your family, partner, or horse, or just doing whatever feeds your soul?
• Live and play in this amazing place we call home and be part of a harmonious and collegial work culture dedicated to providing exceptional equine health care with a competent and experienced staff?
• Share emergency duty with six other veterinarians (we are also currently seeking an emergency clinician that may further reduce ER duty)?
We communicate as a group daily and trust, respect, and support one another. Key tenets of our practice include knowledge sharing and supporting each individual doctor's continued journey to strive for excellence and fulfillment in practice. Mentoring our externs and interns is also an important part of our practice and culture. We work hard to ensure the short- and long-term health and happiness of all of our staff.
Be the change! You'd be part of a seven-doctor, two-intern, primarily equine practice, which includes a surgeon and internist. This position will offer equine primary and referral care both in-house and on an ambulatory basis, with a very well-equipped hospital and a relatively small call radius.
If you're an experienced equine practitioner with a passion and talent for high-quality general practice, we'd love to hear from you! We'd like you to be proficient in triaging most types of emergencies, although surgery and medicine consults/backup are available. Expertise in dentistry and extractions is a plus.
We are family-friendly; most of our veterinarians have young children and we understand the challenges! We are seeking to continually improve the quality of life and practice satisfaction of our current team members, as well as yours, and ideally want someone who'd appreciate an alternative schedule, including a four-day work week (Sunday through Wednesday), though this is not a prerequisite. This gives you the opportunity to enjoy what Bend has to offer when the rivers and trails are empty and the lift lines are short!